Highly Gifted Children´s School.
BRUGAROLAS ARQUITECTOS has just presented the project for the construction of an Educational Center for Highly Gifted Children. The event has been carried to the authorities of Alcobendas's Town Hall (Madrid), city where its construction is foreseen. It is a bold designed building with an educational area for pupils from 4 to 17 years, sportive facilities, assembly hall, residence and dining room. Although in United States and Canada there is a long experience in Scholos for Highly Gifted Students, this will be  the first one devoted to an exclusive education of these kind of pupils in Spain, and the most complete of Europe. The budget of the complex is 7.100.000 €.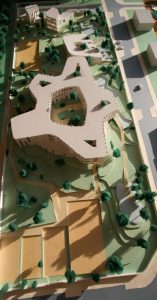 BRUGAROLAS ARQUITECTOS acaba de presentar el proyecto para la construcción de un Centro de Aprendizaje para Alumnos de Altas Capacidades. El evento se ha llevado a cabo un importante municipio de Madrid  donde está prevista su construcción. Se trata de un edificio de audaz diseño con un área docente para alumnos de 4 a  17 años, zonas deportivas, salón de actos, residencia y comedor. Aunque en EEUU y Canadá existen colegios específicos para alumnos superdotados, éste será el primer edificio destinado a la formación exclusiva de alumnos de altas capacidades de España, y el más completo de Europa. El presupuesto del complejo es de 7.100.000 €
Brugarolas Architectes a récemment présenté le projet pour la construction d'un Centre d'Apprentissage pour des Élèves de Hautes Capacités. L'évènement a été réalisé dans le Conseil Municipal d'Alcobendas (Madrid), ville où est prévue la construction. Il s´agit d´un édifice de dessin audacieux avec une zone d´enseignante pour des élèves de 4 à 17 ans, des zones sportives, une salle des fêtes, une résidence et une salle à manger. Bien qu'aux États-Unis et Canada Ils existent des collèges spécifiques pour élèves surdoués, ce sera le premier édifice destiné à la formation exclusive d'élèves surdoués dans l'Espagne, et le plus complet de l'Europe. Le budget du complexe est de 7.100.000 €.