Hospital in Cieza (Spain).
One year after its opening, the Hospital in Cieza (Murcia, Spain) has been received by the health institutions of the Region of Murcia. The project of the building and management of works have been assumed by BRUGAROLAS ARQUITECTOS. With a total of 3.730 square meters and a budget of 4.3 million €, serves a population of 23.000 people. It has a cutting edge design and technological solutions of excellent quality.
Un año después de su inauguración, el Hospital de Cieza (Murcia, España) ha sido recibido por parte de las instituciones sani-tarias de la Región de Murcia. El proyecto del edificio y la dirección de los trabajos de obra ha sido asumido por BRUGAROLAS ARQUITECTOS. Con un total de 3.730 metros cuadrados y un presupuesto de 4,3 millones de euros, atiende a una población de 23.000 personas. Cuenta con un diseño vanguardista y soluciones constructivas y tecnológicas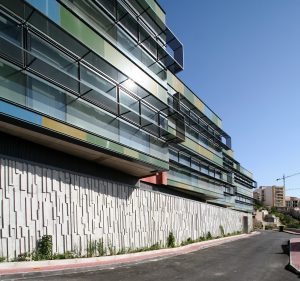 de excelente calidad.
Un an après son inauguration, l'Hôpital de Cieza (Murcie, l'Espagne) a été reçu par les institutions sanitaires de la Région de la Murcie. Le projet de l'édifice et de la direction des travaux d'oeuvre a été assumé par BRUGAROLAS ARCHITECTES. Avec un total 3.730 mètres carrés et un budget de 4,3 millions d'euros, il fait attention à une population de 23.000 personnes. Il dispose d'un dessin d'avant-garde et des solutions constructives et technologiques de qualité excellente