Las obras de ampliación del Instituto «Espeñetas» de Orihuela (Alicante) han comenzado.
Este contrato es fruto de un concurso de arquitectura celebrado a finales del 2019 y del que resultamos adjudicatarios. Tras los meses de redacción de proyectos, supervisión y licitación de la construcción, arrancan los trabajos.
La intervención en cuestión amplía el edificio educativo existente, dotándolo de dos nuevos pabellones de aulas y la adaptación parcial de espacios exteriores de juego, recreo y estancia de alumnos.
Los trabajos han de llevarse a cabo manteniendo la actividad docente del Instituto.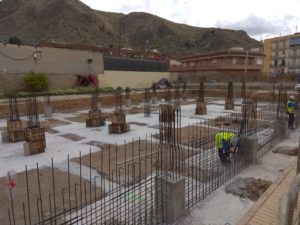 Les travaux d'agrandissement d'un institut à Orihuela (Alicante) ont commencé.
Ce contrat est le résultat d'un concours d'architecture organisé fin 2019 et dont nous avons été attribués. Après des mois de rédaction de projets, de supervision et d'appel d'offres pour la construction, les travaux commencent.
L'intervention en question agrandit le bâtiment d'enseignement existant en lui offrant deux nouveaux pavillons de classe et l'adaptation partielle des espaces extérieurs pour les jeux, les loisirs et les séjours étudiants.
Le travail doit être effectué tout en maintenant l'activité pédagogique de l'Institut.
The expansion works of an Institute in Orihuela (Alicante) have begun.
This contract is the result of an architecture competition held at the end of 2019 and of which we were awarded. After months of drafting projects, supervision and bidding for the construction, work begins.
The intervention expands the existing teaching building, providing it with two new classroom pavilions and the partial adaptation of outdoor spaces for games and sports.
The work must be carried out while maintaining the teaching activity of the Institute.