Residencial de lujo en Oran (Argelia).
Brugarolas Arquitectos a réussi le contrat pour le développement du projet et gestion de la construction de deux tours d'appartements de luxe dans un quartier prestigieux d'Oran (Algerie). Le projet développe 64 maisons de luxe avec piscine privée, salle de gym, jardins et un parking souterrain.  Ce mois de Mars Il a été présenté dans la foire Immobilière.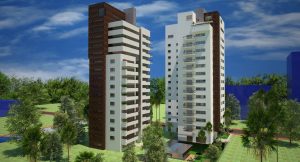 Brugarolas Arquitectos has obtained the contract of two towers of luxury houses in a pretigious quartier of Oran (Algeria).  The project design 64 high standard houses , private swimming pool, gymnasium, gardens and underghround parking. The project has been presented in the last Oran Real Estate Fair on March.
Brugarolas Arquitectos ha conseguido el contrato de redacción del proyecto y dirección de obra de dos torres de viviendas de lujo en un prestigioso barrio de Orán (Argelia). El proyecto desarrolla 64 viviendas de alto standing con piscina privada, gimnasio y jardines y parking subterráneo. ha sido presentado en la Feria Inmobiliaria de Oran del mes de Marzo.
Video: