Livré le dessin d'une Villa à Ponto (Sénégal)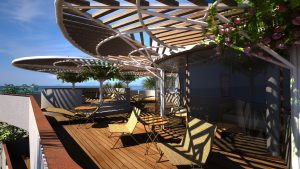 , dans une parcelle situés dans le même bord de la mer. Des espaces intérieurs diaphanes, ouverts aux terrasses, et la vue impressionnante vers la mer, dessinés avec soin pour une vie gratifiante et confortable familiale. Des solutions extérieures mesurées mais d'une grande puissance expressive.
Delivered the design of a Villa located in Ponto (Senegal), on a plot in the same shore of the beach. Interior diaphanous spaces, opened to the terraces and wonderful views over the sea, designed neatly for a comfortable and gratifying familiar life. Exterior solutions with a great expressive power.
Entregado el diseño de una Villa en Ponto (Senegal), en una parcela en la misma orilla de la playa. Espacios interiores diáfanos, abiertos a las terrazas, y al mar, diseñados con esmero para una confortable vida familiar. Soluciones exteriores contenidas pero de gran potencia expresiva.
Video: