Villa et Clinque à Mascara (Algerie).
Mascara est une ville située à environ 90 km d´Oran où nous avons effectué deux projets pour clients privés. L'un d'eux est une clinique dentaire qui comprend différents cabinets, salles de radiologie, des bureaux, des parkings et une zone résidentielle. Le second ouvrage est une villa de luxe avec des chambres généreuses, une piscine et un aménagement minutieux des patios, terrasses et jardins. Son dessin intégre la modernité avec les meilleurs solutions traditionnelles de la culture arabe.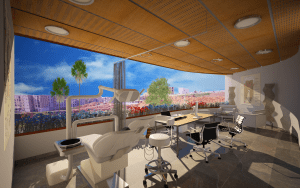 Mascara is a city located 90 km from Oran where we have performed two other projects for private clients. The first one is a Dental Hospital that includes different cabinets, radiology rooms, offices, residential area and parking. The second work is a luxury villa with generous rooms, swimming pool and a careful layout of courtyards, terraces and gardens. The design combines modernity with the finest traditional solutions of Arab culture.
Mascara es una ciudad a unos 90 Km de Oran donde hemos realizado dos proyectos para otros tantos clientes privados. Uno de ellos es una clínica de cirugía dental que incluye diferentes gabinetes, salas de radiología, oficinas, aparcamientos y área residencial. El segundo trabajo es una villa de lujo con abundantes habitaciones, piscina y un cuidadoso trazado de patios, terrazas y jardines. Su diseño integra la modernidad con lo mejor las soluciones tradicionales de la cultura árabe